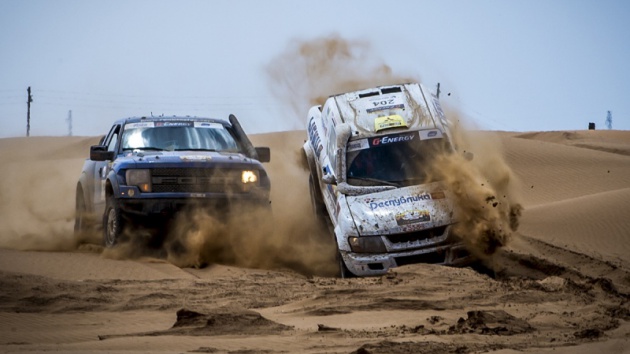 20.08.2015
From 21st to 23rd August the fifth stage of the championship of Russia "Ulyanovsk Baja" will take place. On championship will also participate four "RE Autoclub" represented crews. Rallyraid "Ulyanovsk Baja" will be held at Ulyanovsk, Russia. This is a penultimate stage, in which Latvian team "RE Autoclub" will have to prove themselves. In previous stage both T2 class crews showed very good performance and won the first and second place, T3 class crew won 2nd place, but the T1 class crew – Jouni Ampuja and Markku Hurskainen from Finland had technical issues in all stages.
The participants of competition "Ulyanovsk Baja" recognize that the track will be interesting. Participants expect competition threw the woods, over fields and river crossing.
In rallyraid will participate 33 crews. Three crews will represent international team of "RE Autoclub":
Jouni Ampuja/ Markku Hurskainen from Finland (Mitsubishi MPR 10)

Alexander Terentyev / Alexey Berkut from Russia (Ford F150 SVT Raptor)

Maria Oparina /Alexander Terentyev from Russia (Polris RZR 1000)
The championship of Russia will end in September in Volgograd, where will be the 6st and the last stage of championship.
Follow the direct reporting from the venue at social networks:
www.facebook.com/reautoclub
www.twitter.com/REautoclub
www.instagram.com/reautoclub